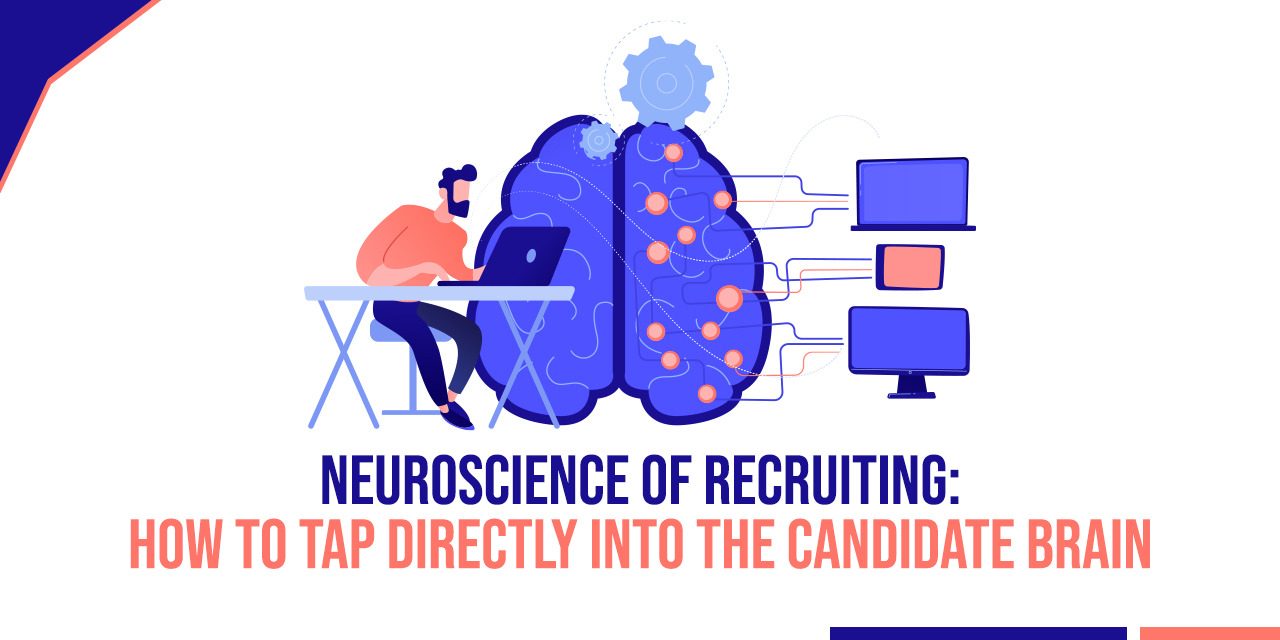 Neuroscience in Hiring: How to Tap Directly into the Candidate Brain
Written By Neha Ahmed
At the end of the day, you can only tell so much from someone's credentials. You need to understand how the person thinks—and how you think. Surprisingly enough, neuroscience can be a great help in that regard. After all, the more we know about and understand the human brain, the better equipped we will be to optimize our talent acquisition process.
Presumably, you want to hire the best and brightest for your business—people who will help your business rise to new heights and professionals who will both embrace and enhance your company culture.
There's just one problem: You're not really sure how to find them.
I will be frank. Most modern hiring processes are objectively terrible. That's made worse by the fact that there really isn't one single reason for our current state of affairs.
Most pre-employment tests offer little in the way of value, wasting both the candidate's time and the interviewer's time. Interviewers are far too focused on qualifications and far too prone to their inherent biases.
There's a better way, and it starts with an understanding of neuroscience.
That makes a strange amount of sense if you stop and think about it. At the end of the day, talent acquisition is about people. The more you understand the human brain, the better you'll be at figuring out who would be a perfect fit for your organization.
But how exactly can you use neuroscience in hiring?
Understand that Qualifications Are a (Small) Part of the Picture
At the end of the day, every single candidate who makes it to the final stages of your hiring process will possess more or less the same qualifications. In theory, that's why we interview job candidates—to determine whether they'll be a good fit for our business.
Unfortunately, interviews don't give us a full picture of who each candidate is. They're both highly fallible and subject to human bias to a great extent. Neuroscience provides us with an alternative.
According to talent acquisition expert and neuroscience specialist Jan Hills, you can gain a much better understanding of who a candidate is by watching how he or she interacts with other employees. Rather than seating him or her across an interview table, instead create an environment that allows the candidate to experience life in your office. You can still sit him or her down for a chat if you must.
Just know that you're not going to get a complete picture of that candidate.
On that note, modifying the earlier stages of your hiring process to be more focused on the traits and personal qualities that can help someone succeed in your organization is also imperative. Education, qualifications, and skills are still important, of course. But they shouldn't be the only things you focus on.
Instant gratification: Give candidates what they need
The reptilian brain is hardwired to favor tasks that give us quick wins. In fact, we actually get a direct hit of dopamine, (the pleasure hormone), every time we finish something. It's the brains way of giving us a pat on the back.
Our new 'on-demand society', where everything is just the click of a smartphone button away, is perfectly suited to this quick win mentality. Job applications on the other hand are not!
Application processes are too long.
These 'quitters' are all people that are excited by what your company has to offer, all potential game-changing hires that have been lost! The cost of finding similarly motivated candidates to replace this cohort is pretty significant.
By creating a user-friendly application using gamification, talent acquisition managers can better ensure that applicants make it to the submission checkpoint, keeping applicants engaged and your hiring on track.