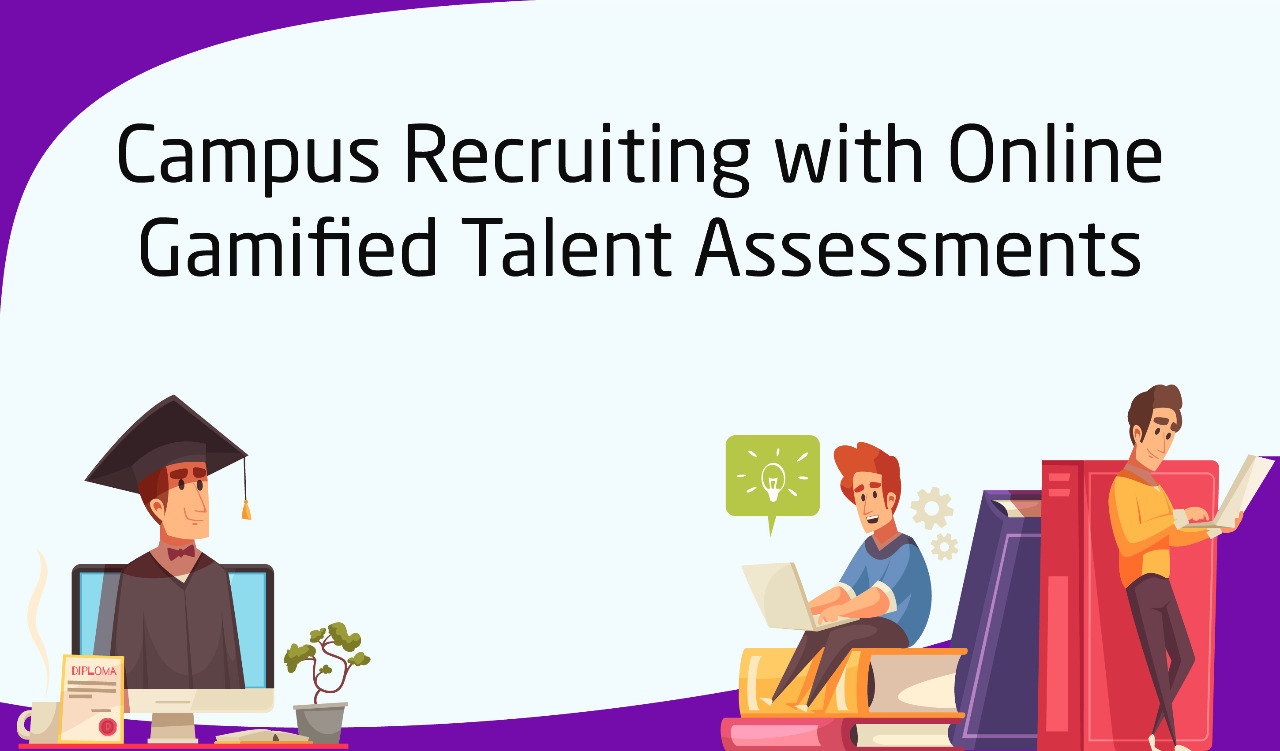 Campus Recruiting with Online Gamified Talent Assessments
Written By The Talent Games Marketing Team
---
Nobody likes to wait! Not the invigilators distributing tests papers at venues. Neither the ones eagerly waiting for time to pass so they can return home. Nor, the ones checking run-of-the-mill tests so they can shortlist candidates for in-person interviews.
Basically, no one. But that is exactly what a typical campus placement scenario looks for a recruiter.
As a talent acquisition manager, campus recruiting opens up a window of opportunity for you to find diamonds in the rough, so you might be preparing for a painstaking process – yet another volume sifting of an enormous number of university graduates.
If your campus recruitment process looks something like this:
Then you may end up bringing up the rear. You may find yourself watching those hard-found graduates get plucked by other recruiters from right under your nose, and that too, at the last moment. And wonder why that happens? The most innovative organizations use the time on the campus not to meet students for the first time, but to make offers to the brightest candidates.
The conventional campus recruiting program may come off as well organized from a hiring team's standpoint. However, if you step into the shoes of a candidate keenly waiting for the first ever job, you'll realize it isn't quite a great experience.
Furthermore, at a point when the war for talent is intense and pronounced like never before, the campus recruiting strategy or model has to be much more than 'good enough' to attract and identify the best campus talent.
What's more, according to a study by the National Association of Colleges and Employers (NACE), the average cost-per-hire of recruiting a student through on-campus recruiting is whopping $3,582, including the heavy investments made in terms of pre-recruiting activities, company visits, relocation, and advertising. The cost exponentially increases if you add multiple colleges to the equation.
Also be mindful of the fact that the competition for recruiting the next wave of graduates is cut-throat, which ultimately means it can be tough for you to stand out from the crowd. On top of it, the typically highly savvy, energetic graduates in addition to the explosion of marketing channels further complicate the task for recruiters.
Well, the campus recruitment system is largely broken. But here's the bigger question: can it be fixed? How can employers ensure they draw the attention of the best campus talent?
The Campus Recruitment Shake-Up: Using Online Assessments
Online assessments are designed to test professional prowess, personality and skills of job applicants. These tests evaluate the candidates' emotional intelligence, communication, critical thinking, cognitive and problem-solving, amongst other skills.
Companies use these assessments as an alternative for traditional pen-and-paper tests to discover candidates that 'fit' the company's culture and job requirements.
---
Watch this video and hear Shail Niazi - MD of The Talent Games speak on how to uncover top graduates with online gamified assessments.
There has been an upsurge in companies adopting online assessments to filter and screen applicants. However, with a majority of the workforce being Millennials, organizations need to think out of the box to get top talent on board.
In order to keep pace with a generation brought up in a digitized economy, gamification of recruitment is a sine qua non to keep the talent engaged.
Campus Recruiting Trends
With around 75 percent of employers visiting colleges and universities to identify young talent, you might be deluded into thinking that these campus recruitment drives must be serving as their largest source of hires. Well, not really. A study by CareerXRoads indicates that only 7.5 percent of employers claim their best source of hires to be from colleges and universities.
Educational institutions, like colleges and universities, provide a large pool of exceptional and ambitious talent. But in order for employers to close the skill gap and hire the most genuine young talent, they need to work out an effective campus recruiting strategy.
Here are some trends you need to follow to up your campus recruitment game:
1. Leverage mobile technology to enhance campus visits
Millennials are incredibly tech-oriented and spend a significant amount of their time on their smartphones – much more than their Baby Boomer counterparts. In fact, a survey by Robert Walters reveals that 85% of Millennials use their phones when hunting for a job. Moreover, according to Glassdoor's 'A Statistical Reference Guide for Savvy Recruiters', approximately 45% of job seekers specifically search for jobs on their mobile phones at least once a day.
The use of mobile phones in recruitment efforts marks a dramatic shift in the way people connect, communicate, engage, and recruit talent. Recruiters can use mobile recruitment tools such as text alerts, mobile-optimized websites, apps and Quick Response codes (QR) to connect with college students.
2. Use gamified assessments to attract college students and fresh graduates
The launch of C-Factor (a gamified assessment platform by The Talent Games) is emblematic of a bigger trend in the recruiting landscape, not just the tech. Gone are the days when recruiters used to gauge a candidate's potential for success in a role with a resume.
Plus, now employers evaluate applicants on their skills before making a job offer rather than judging them on the reputation of their alma mater. And this is possible due to the cutting-edge digital campus recruiting tools that have made hiring top graduates fun and easy.
When you're working with fresh graduates who don't have a prior work experience or a strong professional record, it is extremely important to assess them on their skills. The good news, however, is, you don't have to compromise on the candidate experience to incorporate an assessment into your recruitment process.
Using online campus recruiting tools, recruiters can assess their candidate's aptitude, problem-solving and creative thinking skills, thereby identifying the most suitable candidates and speeding up the selection process.
3. Recruit interns and hire internally
One important way hiring managers can guarantee they recruit premiere talent is by hiring internally. A study conducted by the Source of Hire showed 41.9 percent of openings are filled through internal movement.
Here's what employers can do: they can make internal hires a priority by offering full-time jobs to interns after they complete their internship. The same study also reports that about 32 percent of interns accept a full-time job offer.
When conducting campus recruiting fairs, employers should change their course and focus on hiring interns who will later serve as long-term talent.
4. Utilize social media to connect with Millennials
At least 84% of organizations, according to SHRM, are currently using social media for hiring candidates whereas the 9% of those who don't are planning to.
A study conducted by the Aberdeen Group shows that Millennials are transforming the recruitment practices. 73 percent of Millennials found their last job through a social media platform. Therefore, if you want to target the most motivated and youngest group in the workforce, make sure that use a social networking platform that appeals to them.
Campus Recruitment in 2020: Why Use Virtual Career Fairs
Many hiring managers are breaking from the traditional in-person job fairs, shifting their gear and moving towards the virtual career fairs. It is certainly not surprising why employers are increasingly turning to virtual career fairs in 2020.
Virtual campus recruiting – career fairs that take place exclusively online – allows recruiters to connect with a wider pool of college students and fresh graduates.
Here are some reasons why virtual career fairs beat the traditional campus recruitment:
• Easy and Convenient
Companies are constantly trying to make the job hunting process easier for candidates so as to improve their recruiting process. And virtual campus recruitment presents employers a golden opportunity to do that!
Candidates can easily attend virtual career fairs via their mobile devices regardless of where they are. And since your target candidates were born in a digital age and raised with a smartphone in their hand, these digital natives prefer communicating online than in person. Virtual campus recruitment, thus, delivers a tremendous candidate experience.
• Larger Pool of Candidates
During on-campus career fairs, talent acquisition managers can talk to only a fairly small number of candidates at a time. In contrast to that, online campus recruitment programs allow recruiters to carry on multiple conversations at the same time, thereby engaging with more university talent.
• Social Circles
Hosting a virtual career fair entails taking advantage of a strong social media presence. And since college students tend to be very active on social networking websites, it makes sense to build your social presence and promote your virtual campus recruitment drives online.
• Time and Cost-Efficient
On-campus recruitment is both expensive and time-consuming as employers have to send their recruiters to attend career fairs on colleges and universities. On the other hand, virtual career fairs require comparatively less time investment, taking even less than hour to set up, unlike in-person career fairs where one has to spend days on preparations and travel.
This is why, virtual campus fairs produce the same results as the traditional campus recruiting strategies – in fact, even better on a lower budget.
Innovative Campus Recruitment Examples
Many leading companies as well as multinationals have already embraced the coming-of-age campus recruitment and this action has helped them reap huge benefits. Due to gamification, more and more talent have been able to connect to the brands as a whole while acquiring an understanding of the organization's values, culture and vision.
As a result, it makes a brand stand out from the crowd and thus gives them an upper hand in terms of on-boarding the best talent. No wonder why it is working wonders for the tech giants Apple, Google and Microsoft.
Let's look at some companies that have employed gamified assessments to innovate their campus recruiting strategy:
Shell
Shell, a British-Dutch oil and gas company headquartered in the Netherlands, utilized online gamified talent assessments to discover the top college students and fresh graduates for its Internship Programme and Management Trainee Programme.
Friesland Campina Engro Pakistan Limited
FrieslandCampina Engro Pakistan Limited is a Pakistani dairy company which is a subsidiary of Dutch multinational corporative FrieslandCampina. They used online gamified talent assessments as their campus recruiting tool. By doing so, they improved their candidate experience, screened thousands of candidates online and hired the best university graduates.
Khaadi
Khaadi, a fashion and lifestyle brand that has various stores all over the world, leveraged the power of gamified assessments along with on-campus visits to attract the most ambitious fresh graduates for its LEAD Management Trainee Programme.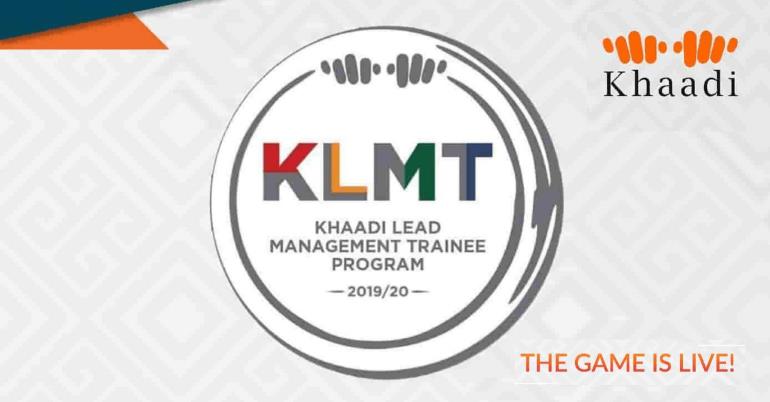 The Future of Campus Recruitment
Organizations and talent acquisition managers need to break free from the traditional campus hiring process, which is not going to work out anymore. They should think beyond the conventions and virtualize their campus recruiting programs in order to leave a lasting impression on candidates and source piping hot talent from colleges and universities.
Innovative companies are winning campus recruitment, while hiring top campus talent with online gamified assessments. There is a significant shift in the expectations of the campus talent. University graduates find on-campus career fairs boring and too much for their liking. They desire to work for companies that leverage cutting-edge technologies and allow them to apply for a job – online.
Hence, the future of campus recruitment is in using online campus hiring tools. With online gamified talent assessments, recruiters and their companies can reach to out to thousands of candidates by deploying virtual campus recruiting strategies.
Such strategies include:
Running social media employer branding campaigns
Hosting online recruitment games
Shortlisting top graduates with video interviews
Setting up virtual assessment centers
This way, you don't have to conduct tedious campus recruitment drives. University students and graduates can register and take online assessments from their home – using either mobile or desktop.
---