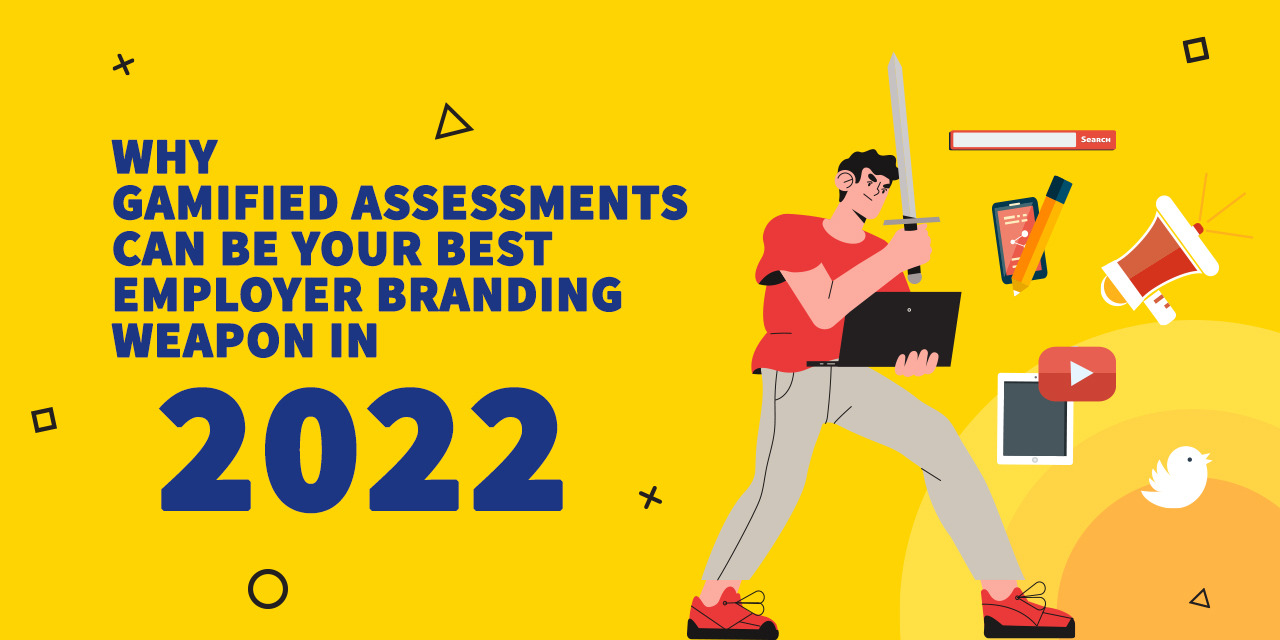 Why Gamified Assessments Can Be Your Best Employer Branding Weapon in 2022
Written By Daniyal Wali
A company's future depends substantially on sales but also the quality of employees it recruits. If you want the pick of the bunch, you cannot afford to ignore your employer brand. It's not surprising that a company known for being a notorious workplace will fail to attract top talent.
24/7 Wall St. compiled the worst place to work list using data from career website Glassdoor, which gathers ratings on more than 400,000 companies globally. Have a look.
Kraft Heinz was the 18th worst company. Employees on surveys cited poor work-life balance, with one employee having posted, "11 hour days have become the norm."
CDK Global was the 16th worst company. Just 38 percent of reviewers approved of the CEO and only 39 percent would recommend that a friend take a job with the company.
A study by Careerealism shows that some 80% of job seekers today will research an employer online before deciding whether to apply to a position there. When candidates don't find enough information to convince them you're worth working for, they'll pass.
In the current candidate-driven market where companies are aggressively competing to get their hands on the best performers, it's essential to have an attractive employer brand. While the marketing department is often relied upon when it comes to advancing the company and its product brands, the HR team must also play a crucial role if the organization has high-growth hiring plans.
In today's digital world, the boundary between recruiting and marketing is blurred. Recruiting doesn't stand alone. Marketing has permeated into it. You cannot showcase yourself as a fantastic employer without a striking recruitment marketing campaign. In the same vein, if your campaign lacks the true essence of who you are, it will likely fall flat. Candidates most likely won't be interested because they cannot obtain much information on what it's like to work for you.
Employers need to learn to brand their companies differently to differentiate themselves from the competitors. Goes without saying, but to be an employer of choice and attract the best talent, companies would have to reengineer their regular employer brand to a digitally powered employer brand. It's all about presenting an employer brand that resonates with candidates.
Picking Gamified Assessments from Your Arsenal
Many employers are already using technology to upgrade their brand and talent acquisition strategies – and to improve the employer branding candidate journey. Surprising enough, it starts from the very point a candidate applies for a position at your company.
Enter gamified assessment: an AI-powered pre-screening tool that exhibits your authentic employer brand to build a best-in-class digital experience for your candidates.
A gamified assessment that helps you to accurately and cost effectively find the right candidates, through an optimum combination of science and entertainment, is a seductive concept.
Here are 5 benefits of using gamified assessments as your employer branding weapon in 2022.
1. Show what makes you unique
In order to make your assessment process feel special and distinct to candidates, use a customized game that tells your own unique story and delivers a message that resonates with the audience.
2. Kill multiple birds with one stone
Gamified assessments turn out be the panacea for hiring worries. Engaging, quick and fun, recruitment games attract and engage the modern job seeker by allowing them to exhibit their true potential in an immersive environment. Cherry on top, they also allow employers to assess an applicant beyond their resume. For instance, you can measure an individual's' critical thinking, initiative, problem solving, aptitude for learning, attention to detail, and specific skills such as creativity or teamwork.
3. Provide equal opportunity for success
All candidates should have a level playing field to succeed irrespective of where they play the game – on a tablet, phone or desktop. No individual should have an unfair advantage over the other.
Recruitment games make sure candidates can give the test on the device of their choice. They also ensure employers don't discriminate a candidate on the basis of color blindness or manual dexterity unless these aspects are relevant for the job.
As a recruiter when you choose a gamified assessment provider, pick someone that can offer your candidates an engaging and aesthetic experience. Moreover, make sure your recruitment games are optimized for all devices and don't compromise basic testing principles.
4. Showcase your values
The use of gamified assessments in the hiring process helps companies offer candidates an insight to the company's culture and values. The assessment as a whole can give them a preview of what they can expect as an employee of the organization, ultimately increasing the chances of hiring the 'right' talent. This also allows you, as a recruiting professional, to enhance your chances of hiring candidates that align with your organizational values and culture.
5. Communicate with your candidates
If you're making a selection decision based on someone's performance in a game, good practice is to explain to your candidates what the game is assessing and how their performance data will be used. If you won't be taking a candidate further in your selection process, outline the reasons why and explain that it isn't because they 'failed', it is because they don't have the specific mix of skills or behaviors that you're looking for. You have to be able to justify and validate your decision – and you can only do this if your game has a sound scientific basis.