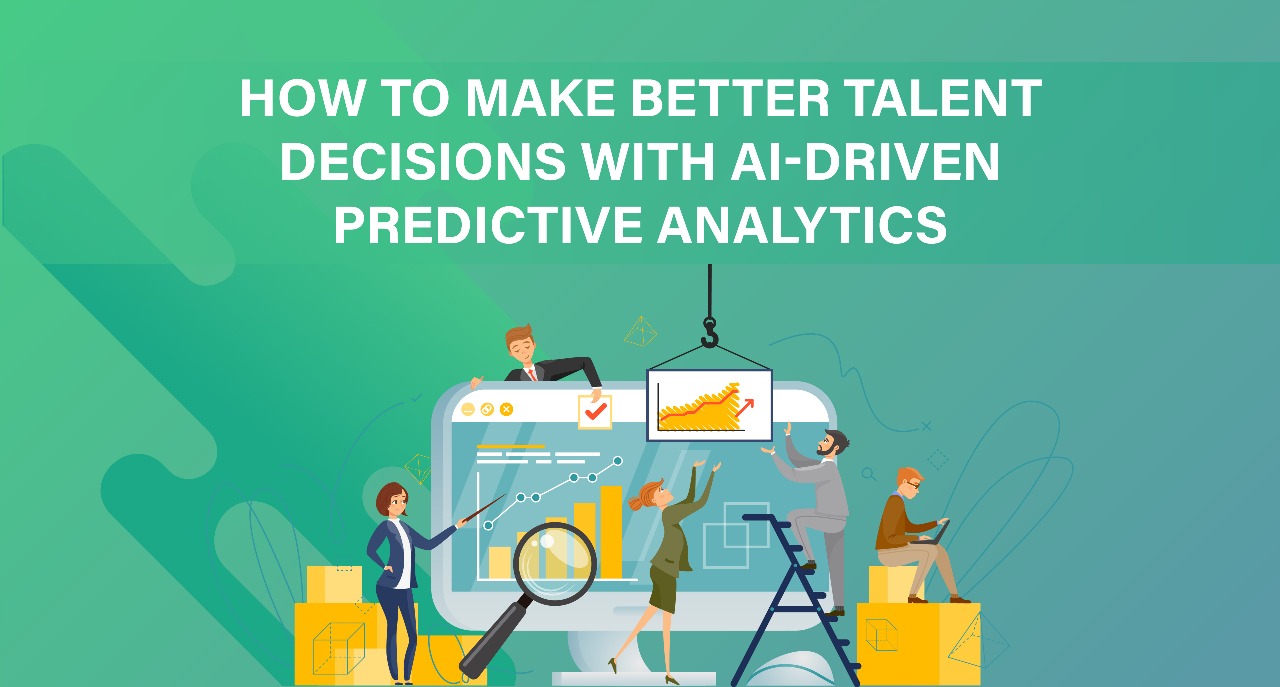 How to Make Better Talent Decisions with AI-Driven Predictive Analytics
Written By Neha Ahmed
---
Used across various industries, predictive analytics allow companies to make informed decisions for better results. Organizations that effectively use predictive analytics in recruitment are more likely to hire high-caliber applicants compared to the ones that don't use analytics.
---
Predictive Analytics in Recruitment
When it comes to sourcing and recruiting, recruiters must attain a deep understanding of talent. Traditional hiring, however, is more of a guessing game – whether it is about finding the perfect fit or evaluating skills. While there are a number of ways to assess candidates, in the end talent acquisition teams are mostly found hiring with a hope the new hire will perform well. Sadly, this may cost them enormously in the long run.
If their decision turns out to be a wrong one – the employee doesn't last longer than a few weeks – a great deal of time and money goes down the drain. In addition to that, the team might have to take up the additional responsibilities the new employee was supposed to assume. Thus, they might also suffer from a loss of productivity.
Thankfully, talent acquisition tech has come to save the day. HR teams can now tap into the power of predictive analytics to improve outcomes in hiring and make smart talent decisions.
So what exactly is predictive analytics?
As the name suggests, predictive analytics seeks to make use of statistics and modeling to predict future performance based on historical and current data.
How AI and Predictive Analytics Help Predict Top Talent
Let's see how AI and Predictive Analytics can enable you to make the right talent decisions:
• Improve Quality of Hire
Employees are your company's most important asset. It is therefore important to have a recruitment strategy in place that incorporates talent acquisition analytics. Data driven decision making will allow you to bring the right people on board, ensuring your organization succeeds.
AI-powered predictive analytics has the potential to make a huge impact on the quality of hire, which is why it is among the fastest growing segments in recruitment tech today. In a 2018 survey, 69 percent of talent acquisition professionals acknowledged that AI has enabled them to hire higher-quality candidates.
AI-driven predictive analytics in recruitment has the capability to standardize the matching between candidates' knowledge, experience, and skills and the requirements of the job using data. Hence, it can determine what a successful employee in a specific position will look like, and find candidates with similar skills and experience. This would ultimately improve the quality of hires and significantly reduce the turnover rate.
• Tackle Talent Scarcity by Strategically Expanding the Talent Pool
A great number of recruiters have been selecting candidates from a very limited talent pool. According to a study, this makes for serious skill shortage. Plus, a hiring manger spends nearly 1/3 of their work week (about 13 hours) sourcing candidates for a single role. So there is only a limited amount of resumes they can sift through.
Interestingly, passive candidates make 70% of the global workforce. And if talent acquisition managers undermine the potential of this talent pool, they can impair recruiting effectiveness. In the past, reaching passive candidates involved a lot of resume database searching, cold-calling, outreach, and dead ends.
However, with AI's and predictive analytics powerful ability to rapidly sift through millions of data points, recruiters can efficiently identify passive high-caliber candidates. Using AI-powered predictive analytics, talent acquisition professionals can also tap into a larger talent pool to source candidates.
Most often employers ignore the former employees and applicants, oblivious to the fact that they are missing out on a large pool of lucrative talent. AI and predictive analytics in recruitment can help recruiters uncover candidates already present in the company's existing resume that could be perfect matches for an open role.
• Reduce Hiring Bias
A common factor that stymies diversity in the hiring process is the strong focus on candidate referrals. Hiring managers tend to rely on employee referrals and perceive them as a critical source of talent. However, they don't realize the exorbitant price they would have to pay for it.
Essentially, it comes out in the form of affinity bias. In other words, employees are more like to refer candidates who share similar beliefs and backgrounds. This ultimately reduces the diversity of the workforce. AI, along with predictive analytics in talent acquisition, eliminate basic bias that engenders from social categorizations humans unwittingly establish throughout their lives.
• Enable Audience Targeting
Talent teams are always hunting for the purple squirrels. Fortunately, with the incorporation of AI and predictive analytics in recruitment process, it has become much easier. AI-driven predictive analytics can boost your strategic sourcing initiatives by supplying you with real-time information.
You can use them to display targeted ads to the right candidate audience. On the flip side, failing to review the origin of that candidate connection can prevent you from reaching the best candidates. Recruiters may be provided with information such as how many candidates fall off in the process and at which point, which job sites perform the best, so on and so forth.
Thus, employers can make data-driven decisions and run more targeted ads that yield better results. The stronger the data set, the better you will be able to focus on the highest-yield channels that will produce big candidate results. Unluckily, most hiring teams rarely leverage recruitment technology. Rather, they make educated guesses on things like how, when and where to put the word out about their job vacancies.
This is where HR analytics come to the rescue. With AI-powered predictive analytics in recruitment, employers can unearth a candidate goldmine as well as find exceptional future employees without having to do the guesswork.
Wrapping Up
Although predictive analytics can help hiring managers spot the best applicants, it is important for companies to first gauge the effectiveness of a predictive analytics tool against their own unique business needs. That being said, similar to any other tool, predictive analytics can only deliver a solution if one knows about the issue that needs to be resolved.
With its ability to recognize historical patterns in data, predictive analysis can offer recruiters with valuable insights on likely future occurrences. While it is no crystal ball, predictive analytics help decision makers zero in on the trends, guiding them to modify their actions for better results.