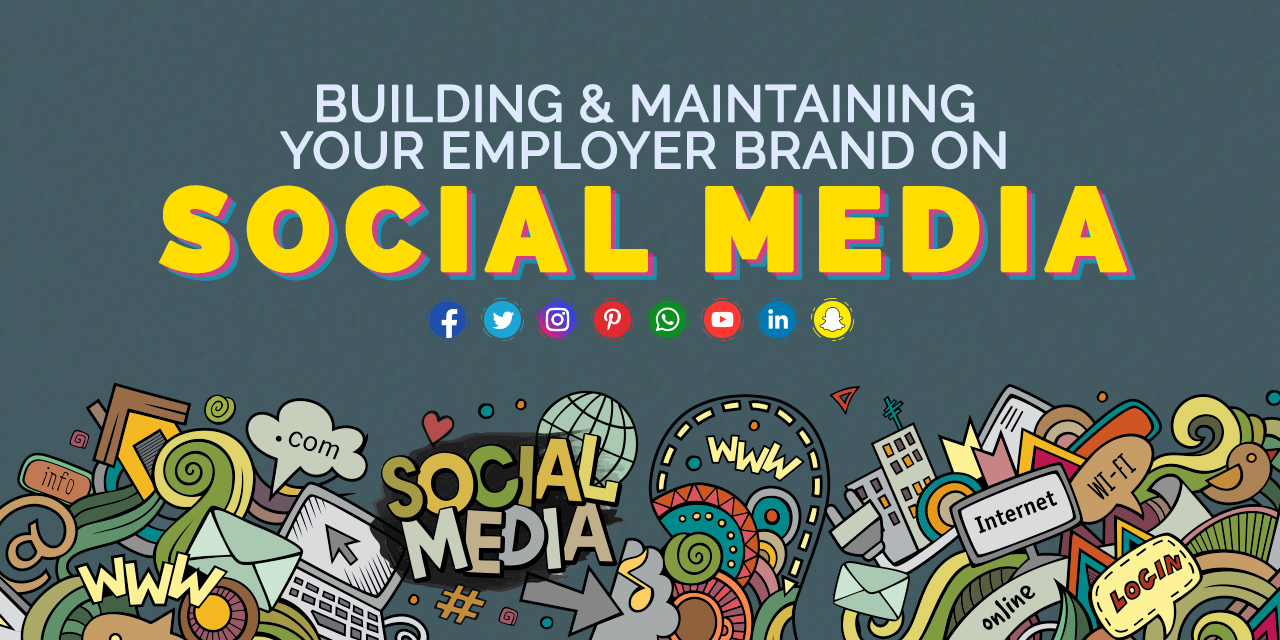 Building & Maintaining Your Employer Brand on Social Media
Written By Daniyal Wali
In the current climate where social media continues to gain more momentum with every passing day, strengthening your social media employer brand is not just a nice-to-have but a must-have. 
Salt & Pepper: Employer Branding On Social Media
We live in an age of transparency where consumers only want to buy from companies they trust and respect, and job seekers want to ensure that the companies they're applying to are open and honest about the things they do. Whether you want to sell products, draw people to your cause or recruit top talent, you need to show your followers who you are in the first place.
Job seekers are now veritable job shoppers. They look for employers that will invest in their growth and development, offer a thriving culture, grant recognition and rewards and provide life beyond work.
Branding a company as an employer of choice plays a significant role in recruitment process and improves its ability to attract and retain the best talent. In order to win the war for talent, organizations shouldn't only aspire to become a great place to work, they should aim to be perceived as one too.
Essentially, job hunters expect to work for a company that tells its own unique story via its social media employer brand and has an active online presence. However, corporate websites aren't enough for disseminating information to the potential workforce. When it comes to building your brand's authority, one of the best ways is through the savvy use of social media.
Applicants are likely to assess your employer brand from its social presence. In fact, a staggering 68% of Millennials choose to specifically visit company social channels to evaluate their employer brand prior to applying for a role. They even review and voice their opinions on social media. From pay scale to working atmosphere, to company culture and practices, it's hard to keep things off the record in the age of social media.
Investing in your social media employer brand and communicating your Employee Value Proposition therefore has become a must-have. An updated profile will have a positive influence on your brand whereas a negative stain on your organization's reputation will have a ripple effect on recruiting as well as on other critical processes of your business.
Boosting Your Social Media Employer Brand in COVID-19 Pandemic
The COVID-19 pandemic initiated a period of hiring freezes and high unemployment that also shifted employees' expectation of their employers.
Maintaining connection and showing people you take care of your employees and what your brand stands for has become increasingly important. According to research from IZEA Insight, 66% of social media consumers expect their social media consumption to increase during coronavirus confinement. While using social media to attract talent has become indispensable, recruitment marketers must ensure they strike the right balance between the head and the heart in their brand communications.
Employers wanting to stay on top, therefore, would have to tailor their employer value proposition messaging to suit the current climate as well as keep their social media employer brand active so as not to miss out on top talent.
Honing Your Strategy: How Great Companies Brand on Social Media
There's no rocket science to developing your employer brand strategy on social media, but here are a few things that you cannot afford to ignore.
Set up a career's page

Use employee story highlight

Employ a unique employee-hashtag


Exhibit company events and conferences

Showcase the workspace

Remind people you're hiring
Best Employer Branding Examples on Social Media
Mastering employer branding on social media can be a game changer. Here are some of the best examples of companies utilizing social platforms the right way:
• Adobe
Adobe Inc., the American multinational computer software company, has always prioritized creating creative products and brightening up their social media employer brand.
With their hashtag #AdobeLife appended at the end of many of their posts, the company showcases its work culture and employee stories. Adobe also highly values their employees as brand ambassador, which only attracts more and more people to work for the organization.
• Marriott
Marriott International, Inc., an American multinational diversified hospitality company, keeps the candidates engaged throughout the recruitment journey with direct questions and insightful behind-the-scenes posts. Marriott uses nearly every social media platform and actively celebrates employees to sell their brand. No wonder why they have 1.3 million followers on Facebook alone.
• K-Electric
K-Electric, a Pakistani electric supply company based in Karachi, harnessed the power of social media along with gamified assessments to establish itself as a digital employer brand. As a result of the powerful social media campaign, KE managed to receive applications from over 20,000+ candidates, discover the cream of the crop and boost its social media employer brand.
• Masan Group
Masan Group, one of Vietnam's largest private sector companies, has a dedicated page especially for recruitment purpose. Masan has a strong social media employer brand, with which it puts emphasis on the cool things their employees are working on, thus also giving workers a reason to become proud of themselves.
• FrieslandCampina Engro Pakistan Limited
FrieslandCampina Engro, a Pakistani dairy company which is a subsidiary of Dutch multinational corporative FrieslandCampina, leverages social media to integrate diversity and inclusion with its employer brand. FrieslandCampina Engro Pakistan commits to D&I and promotes a gender equal mindset, which is surely evident on their social platforms.
Wrapping It Up
Companies that don't work on maintaining their social media employer brand and post on social platforms sporadically are likely to struggle with creating a robust talent pipeline. Conversely, those who build their brand as a trusted source not only attract a rich talent pool of enthusiastic job seekers but also entice a stream of buyers.