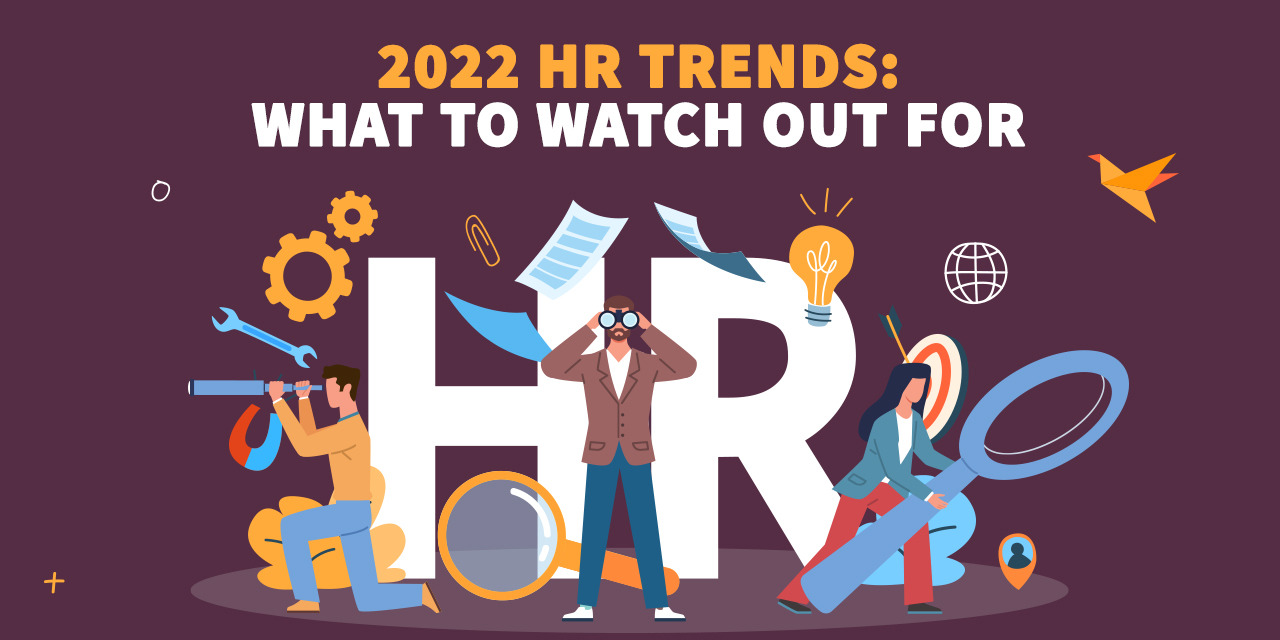 2022 HR Trends: What to Watch Out for
Written By The Talent Games Marketing Team
Understatement of the year award incoming, but 2020 and 2021 changed the way we work forever. But like most things in life, it's how you deal with change, and 2022 is certainly the year HR will have to ride the transformation waves that rippled across the past two years.
Here are the top 2022 HR trends:
1. More Focus on Diversity, Equity and Inclusion
Over the past few years, we have seen social movements such as the #MeToo and Black Lives Matter become a huge part of the public discourse. This has also led to HR leaders setting a high priority to DE&I, with 25 per cent saying it will be their top focus for 2022.
An inclusive workplace culture that is made up of a diversified workforce (one that is diversified in terms of sexual orientations, age, gender, religion, color, and nationality) will not only bring about higher employee satisfaction and retention but also generate substantial profit and drive innovation in an organization.
Diversity and inclusion in the workplace is going to be one of the 2022 HR trends. For everyone at your organization to be on the same page, senior leaders need to show commitment and passion when it comes to DE&I. It has to be an ongoing instead of a one-off thing.
2. Hybrid Work is here to Stay
When the Covid-19 swept the globe in early 2020, the typical workplace was changed overnight. Nearly all operations shifted to remote. With vaccines roll out in 2021, hope of a "return to workplace" sparked. However, now the Omicron variant seems to rewrite the plan for 2022, the hybrid work trend is projected to continue in the coming year.
Large enterprises like Shopify, Facebook, Amazon, Microsoft and others have implemented the hybrid work model within their organization. A study reveals that 79 percent of the C-suite will allow their employees to split their time between corporate offices and remote working, if their position allows it.
This hybrid approach to work where employees can have the opportunity to work from home as well as the office is surely going to be one of the most popular 2022 HR trends.
3. Steering through the Great Resignation
A Gallup study in mid-2021 revealed that 48 percent of America's working population was actively searching for new opportunities. This statistic reflects the low level of employee engagement, which has materialized into the Great Resignation.
While the current job market is white-hot, the hiring market is hyper-competitive. According to the U.S. Labor Department job openings have topped 10 million for five straight months.  Notwithstanding, while people want to work, they want to feel valued by their employer.
It turns out the problem is not in recruiting but in retention. And in 2022, the ease of virtual hiring will continue to fuel talent migration. In order to attract, hire and retain great talent, companies need to prioritize learning and development, career growth and total reward programs.
4. Employee Wellbeing Remains Center Stage
As many workers experience burnout and struggle to balance work-life, companies offer added benefits, such as mental health apps and time off, to address mental wellbeing concerns. However, even when majority of employers shift to the hybrid way of working, the lines between work and life continually remain blurred.
According to research,
29% of employees won't always take a sick day, even if they aren't feeling well enough to work, and among those employees, 61% cite workload as the reason why. And while employees aren't working, 20% often worry about work problems during their personal time. 
COVID-19 completely changed how wellbeing and inclusion was earlier looked at. Employees began to demand more from their job than the nine-to-five grind.
Following the pandemic, employee wellbeing has been put more into focus – thus seems to be of the 2022 HR trends as well. Now employers need to create a compelling employer brand by putting more emphasis on supporting employees and giving a sense of purpose. Moreover, a safe space where everyone feels sharing their opinion and holding conversations without any fear should be built at all levels within the organization.
5. Reskilling, Upskilling, and Flexible Development Opportunities for Competitive Edge
Another key HR trend would be reskilling and upskilling employees. While employee skills development has been a common practice for several years, it spiraled up after the COVID-19 pandemic. This was because employers began to face the shortage of multitalented professionals, and therefore realized the importance of employee skill development much more than before.
Workplace technology is going to transform more than one-third of jobs worldwide. In other words, more than one billion people will need to be reskilled and upskilled to keep up with the Fourth Industrial Revolution. In terms of hiring, a trend of companies moving towards more data-driven skills testing is conspicuous. More focus is being put on work experiences than educational history. Gartner study shows that 59% of HR leaders are prioritizing critical skills-building in 2022.
According to a recent Fast Company article,
"As with solving any new challenge, we need to look at what's not working in order to create something that has greater value. We need to build programs that will inspire workers to stay with their respective organizations and acquire the skills that can advance their careers or allow them to transition into more satisfying roles."
It's time for HR leaders to identify both the in-demand and obsolete skills to be able to help employees develop and navigate their careers and also boost company performance as a whole.
6. Virtual Hiring Tools Are On the Rise
Virtual hiring tools have become to an HR manager what a paintbrush is to a painter. They simply cannot do without it in 2022. In his article on 'Predictions for 2022', technology analyst Josh Bersin writes:
"We are about to witness the unleashing of the most incredible technology I've ever seen. Not only do we have AI under the covers of every HR too, but Talent Intelligence systems are also getting incredibly good at matching, predicting, and selecting people."
While HR professionals had been using tools for talent management and handling all the other vital aspects of their day-to-day life earlier, after the pandemic the need arose more than ever. Among the virtual hiring tools, gamified assessments have been a big hit. A great number of organizations including Nestle, Novartis and Shell have been using recruitment games to attract and hire top caliber individuals. As a result, one can witness a lot of recruitment gamification companies emerging in the global market due to the high-demand of recruiting gamification tools.
7. Multi-Generation Workforce for an Engaged Workplace
One of the prominent 2022 HR trends is going to be managing a multigenerational workforce. From the traditionalists (1927-1946) to Generation Z (2001-2020), workplaces will see a mix of generations.
Business leaders need to overcome the stereotypical mindset to be able to manage a multi-generational workforce. Because as it turns out, more than half of the respondents in Deloitte's 2020 Global Human Capital Trends report revealed that they consider generational differences when designing and delivering workforce programs. Only 6% believed that their leaders are equipped to lead a multigenerational workforce effectively.
Plus, when multiple generations work together, "reverse mentorship" can be put into practice, allowing younger and older employees to help each other acquire new concepts.
8. Productivity KPIs to Measure Employee Performance
Measuring employee performance is a part of assessing your business' health. In 2022, HR and business leaders need to consider productivity measures better suited to the new way of working, so as to ensure everyone is meeting their full potential, with access to the right support and opportunities.
The use of KPIs is a great way to try and benchmark progress. KPIs, also known as key performance indicators, are quantitative measures used to evaluate the organization or individual's performance in meeting specific goals. For instance, people in the sales team may be evaluated on monthly sales growth and close-to-close rations. Similarly, members of the IT team may be assessed on help desk resolution rates, alert-to-ticket ratios and network availability.
9. Cyber Security Practices to Create a Fast and Secure Workplace
As more and more organizations embrace the remote work model, they begin to face new cyber security challenges, among which phishing and malware are the most common threats.
Resultantly, one of the dominant digital HR trends in 2022 will undoubtedly be creating a secure environment and adopting the most effective cybersecurity practices. Firstly, blockchain would significantly improve data security. Another way to avoid cyber risks is by giving users role-based access controls & limited access to confidential data.
After the Covid-19 pandemic, we can witness a striking increase in cyber risks. HR professionals thus need to educate employees about the growing threats.
10. Flexibility Would Be Appreciated
In April 2020, the unemployment rate reached 14.8%—the highest rate observed since data collection began in 1948. The initial layoffs, furloughs, and hiring freezes of early pandemic led to record-high unemployment. However, even with the current high rates of unemployment, companies are struggling to hunt down enough talent.  Why is that?
We are in an unprecedented candidate-driven labor market and need to listen to what candidates want. Adam Karpiak, president of Karpiak Consulting –  whose work as a contingent recruiter yields pay for conducting a successful search – says, "You can either sell a candidate on the job you have, or actually listen to what the candidate is looking for." Companies that give employees the autonomy to make decisions that work best in their favor will clearly have a distinct advantage.
Indubitably, candidates want a flexible hours' policy, thus flexible mode of working is going to be one of the 2022 HR trends.