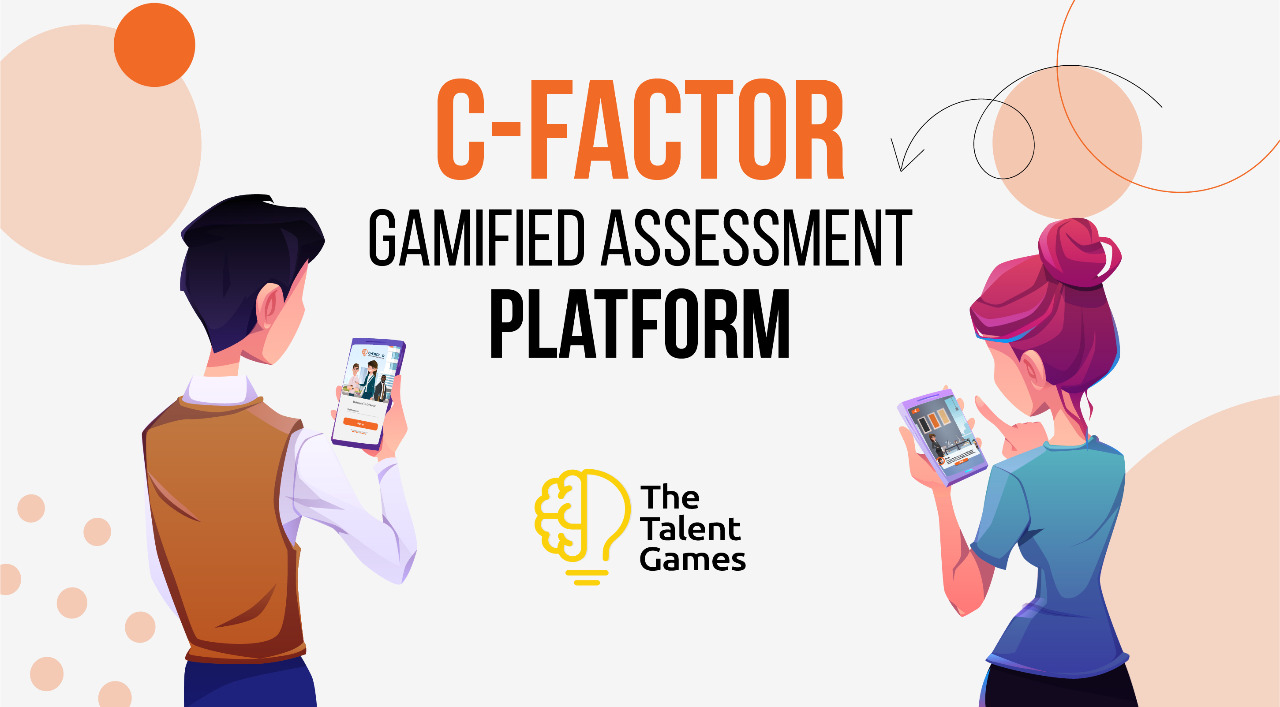 C-Factor Gamified Assessment Platform
Written By Daniyal Wali
---
C Factor – the flagship product of The Talent Games is an AI-powered and neuroscience-backed gamified assessment platform that assists employers with the pre-screening tests and assessments of job applicants.
---
What is C-Factor?
The C Factor game is a turnkey solution that harnesses the power of neuroscience and artificial intelligence to reduce bias from the recruitment processes, providing each candidate an equal opportunity to land their dream job and offering companies a chance to strengthen their employer brand.
As a highly effective gamified assessment platform, C-Factor helps organizations with pre-screening of candidates, equipping recruiters with the data they need to hire the top-tier talent in their pipeline. Companies can select the most relevant assessment tools from our library to create the perfect ready-to-play game for millennial recruitment.
The C-Factor Advantage
Wondering how interactive, engaging and user-friendly is the C-Factor gamified assessment platform? Read on! We conducted a survey on 7000 students who played C-Factor game and asked them about their experience. Here's what the respondents said:
91% said the game reflected real work situations
80% agreed the game was relevant to the position they applied for
94% thought the platform was easy to understand
74% felt that the game allowed them to demonstrate their full potential
This data indicates that C-Factor has actually allowed job-seekers to be selected purely on the basis of merit, eliminating biases that have been rife in the traditional recruitment process for many years. With C-Factor, candidates are now in the driving seat, having massive power over where to direct their career.
On the flip side, this state-of-the-art recruitment game enables companies to flaunt their tech savviness and showcase their employer brand.
How do we know this?
Well, this is what the 7000 applicants we surveyed had to say about the companies that utilize C-Factor:
62% believed companies can hire better quality candidates
62% agreed that C-Factor has altered their perception about the companies
75% stated that C-Factor provides a more outstanding experience as compared to other assessment platforms
The candidate market is inundated with talented people, but the traditional hiring process prevents companies from identifying them. However, the interactive, creative and ingenious C-Factor has bridged the wide gap that both candidates and companies have been experiencing for several decades.
And now human resource professionals with a digital mindset cannot avoid jumping on the gamification bandwagon. Luckily, C-Factor is precisely the top-of-the-line solution they've been eagerly waiting for!
Why Should Employers Use C-Factor as a Gamified Assessment Platform for Bulk Hiring
Here are some reasons why employers should use C-Factor for recruitment:
• Strengthen Your Employer Brand
Merely knowing where to find the right talent isn't enough to build a healthy pipeline of talent. Talent acquisition managers need to step up their recruitment efforts by differentiating themselves from the competition through a robust employer brand. In its 2014 report, CEB indicated that employers that invested in employer branding reported a 54% increase in high-quality candidates.
With its wide scope and customizability, the C-factor gamified assessment platform allows companies to entice the best candidates by showcasing their employer brand to hundreds and thousands of candidates. In fact, according to a LinkedIn survey, 75% of applicants consider an employer's brand before even applying for a job, which is why organization need to invest into building a strong employer brand based on their organization's values, vision and culture.
• Gain Real Insights into Your Candidates
Sometimes candidates don't perform their best or fall flat in pre-employment tests and interviews due to nervousness or anxiety. Other times, recruiting professionals neglect qualified candidates solely because they didn't present their resume in an attractive, eye-catching layout.
By using C-Factor test for recruitment, HR leaders provide applicants a stress-free and fun environment, allowing them to display their true potential. This, in turn, enables them to evaluate each candidate's true abilities.
• Appeal to the Digital Natives
As a tech-savvy generation, Millennials are better equipped than their predecessors to leverage technology for cutting-edge products and services. Thus, they also intend to work for a company that positions itself as a digital innovator.
Additionally, considering the fact that millennials are the fastest growing labour force and will make up 75 percent of the workforce by 2025, recruiters need to understand what captivates this generation in order to attract, retain and motivate them. The game designer, J McGonigal believes the average western millennial will have spent 10,000 hours on computer generated gaming by the time they are 21. And this is why, the C-Factor game presents itself as the ultimate state-of-the-art solution to attract and source the top millennial talent.
• Reduce Bias & Provide a Level Playing Field
A competent candidate comes in all different shapes and sizes – old, young, black, white, novice or an experienced professional. The prospective employee can belong to any of these backgrounds. However, resumes cannot fully grasp the skills and capabilities that a candidate has to offer, especially when it comes to those who recently entered the workforce and the industry.
According to research, the traditional hiring process is biased and unfair, replete with unconscious sexism, racism and ageism that significantly impact who gets hired. In fact, 81% of employers believe unconscious bias influences their hiring decisions, as a result of which they miss out on top candidates.
C-Factor tests assess candidates on different facets of their skills and abilities rather than judging them merely on the depth of their resume. It disregards a candidate's background, educational qualifications and other aspects which can be influenced by socioeconomic factors, giving everyone an equal opportunity to shine and prove their true potential.
• Enhance the Candidate Experience
C-Factor provides an unrivalled experience to candidates with its interactive recruitment games that evaluate players on cognitive and critical thinking abilities, personality traits and problem-solving skills. With its potential to reduce unconscious bias and provide a level playing field to all players, this revolutionary recruitment game dramatically improves candidate experience.
• Reach a Larger Talent Pool
Organizations that employ the traditional method of recruitment struggle with sifting through an enormous number of resumes, and this task only becomes more time-consuming and demanding when they have over a hundred resumes against a single job position. In addition to that, recruiters also face the challenge of not having enough candidates to choose from owing to their inability to reach the mass audience.
With the C-Factor gamified assessment platform, talent acquisition managers can lure a plethora of candidates who may not have found about the job position on their own. In other words, C-Factor serves as a talent surfacing engine, uncovering top talent from unexpected places and letting both the employer and the candidate discover each other in a fun way.
Companies using C-Factor Games
In the current candidate-driven market, employers looking to source finest talent need to prove to the job seekers why they should work for their company.
Here are some companies that have stolen the limelight with C-Factor:
Shell
Shell, the Dutch-British oil and gas company headquartered in the Netherlands, shook hands with The Talent Games to discover the finest college students and fresh graduates for its Internship Programme and Management Trainee Programme. Using the ready-to-play gamified recruitment solution C-Factor, Shell managed to induct the cream of the crop while also strengthening its employer brand.
Khaadi
Khaadi, a fashion and lifestyle brand that has multiple stores all over the world, employed the C-Factor game along with on-campus visits to pique the interest of the ambitious fresh graduates for its LEAD Management Trainee Programme.
Novartis
Novartis, the Swiss multinational pharmaceutical company, partnered with The Talent Games in order to revamp its recruitment process using AI and neuroscience. Novartis unearthed the most competent millennial talent for its Management Trainee Program using the C-Factor test in tandem with its "You Are The Future" campaign on social media.
Jazz
Jazz, a mobile operator in Pakistan that provides a range of prepaid and postpaid voice and data telecommunication services to both individual and corporate subscribers, used C-Factor game to explore the power of digital innovation in talent management. With the gamified assessment platform, the company managed to screen thousands of candidates online and hire the most qualified of them.
Guaranty Trust Bank Nigeria
Guaranty Trust Bank PLC, a Nigerian multinational financial institution, teamed up with The Talent Games to implement an unconventional, bias-free recruitment strategy. GT Bank utilized the C-Factor, as a result of which it was able to reduce the overall cost and time of hiring, enhance the candidate experience and source the most outstanding candidates.
How to Play C-Factor Recruitment Games?
The C-Factor game comprises of four different sections, all of which need to be attempted to successfully complete the game. These include:
·         Aptitude Assessments
·         Psychometric Assessments
·         Situational Competency Based Assessments
·         Cognitive Ability Games
Aptitude Assessments
The aptitude assessments measure a candidate's ability to work with information in different areas. Candidates are expected to complete three sub-sections, including Error Checking, Inductive Reasoning and Numerical Reasoning. Each of these categories gauge one's innate aptitudes and abilities and don't rely on any specific knowledge, so it's not something one can effectively study for. However, it is important to remain focused as these questions have right and wrong answers.
Psychometric Assessments
Psychometric assessments assess several aspects of candidates – their values, behavioral preferences, the kind of the work environment they prefer to work in, so on and so forth. These kind of assessments include the behavioral profile against the OCEAN personality questionnaire. Since these questions are indicative of one's personal preferences, interests and motivations, they do not require any prior preparation. This is also why there are no right or wrong answers. The best way, therefore, to complete this section is by choosing a response that comes most natural to you.
Situational Competency Based Assessments
Situational competency based assessments, also known as SJTs (Situational Judgement Tests) evaluate how a candidate responds to situations encountered in the workplace. Built around hypothetical scenarios, these kind of assessments are mapped against a set of competencies chosen by each employer. Hence, the answers given by the candidates reveal how aligned they are with the values and behaviours of a particular company. To ensure the applicants have a good understanding of such assessments, we provide some sample questions at the start so they can familiarize themselves with them.
Cognitive Ability Games
Using a series of 1-2 minute games, this section measures a person's cognitive traits, including focus, decision-making ability, judgment, memory and problem-solving skills. These games have right and wrong answers and the top panel signifies your score. For every correct answer you gain a point, but there is negative marking for every wrong answer. So the best way to successfully complete these games is by ensuring you are in a distraction-free space and attentive while playing the game as they are timed and give you only one chance.
How to Pass C-Factor Tests?
C-factor Game Tips For Candidates
Read all instructions carefully.

Check your requirements to ensure you meet the eligibility criteria.

Make sure you have a strong internet connection.

Find a quiet, distraction-free environment where you won't be interrupted.

Give yourself enough time to complete the game. It's always a good idea to start the game a week before its last day to play.

Check your PC before starting the game for any technical issues and reach out for support if you face any.

Make sure you have slept well the night before.

Choose a time of day when you are most alert, so that you perform the best.
Everyone has abilities and strengths that cannot be assessed by these assessments alone, so we recommend employers to consider the results of the game along with other information, such as your resume and interviews.