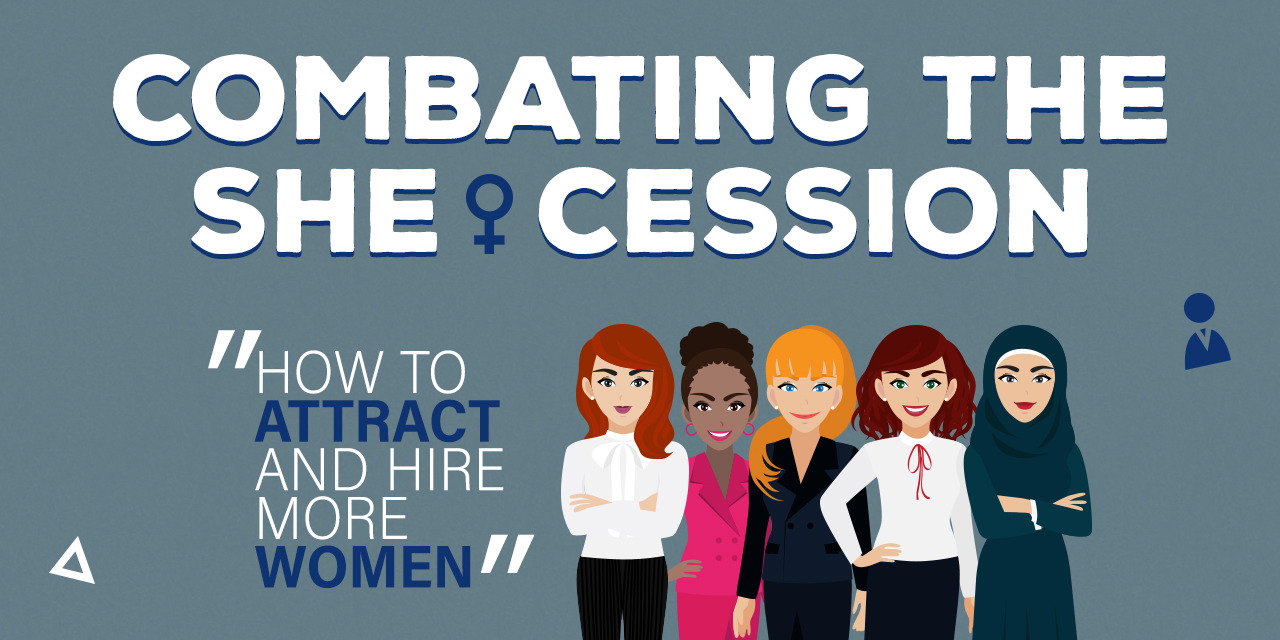 Combating the She-Cession: How to Attract and Hire More Women
Written By Neha Ahmed
The coronavirus pandemic has disproportionately harmed women's careers. In fact, for the first time in history, the US has slipped into a "shecession" – an economic downturn where job and income losses are affecting women more than men. The term was coined by C Nicole Mason, president and chief executive of the Institute for Women's Policy Research (IWPR), a thinktank.
Statistics show that women were 4x more likely to leave their jobs and 3x more likely to sacrifice their career for their family. Women accounted for all of U.S. job losses in December, dramatically showing the pandemic's devastating impact on working women.
Here's how you can stop this downward spiral, giving women a fair chance to get hired:
Look Beyond the Resume
You cannot evaluate a candidate just by looking at their resume. The recruiting team needs to assess people on multiple facets – their skills and abilities to make the decision about the right hire. Indicators like the educational institution they attended, the previous employer they worked for as well as other demographic details should be disregarded to give each candidate the best possible chance. As a recruiter, you would also want to check whether the prospective employees are willing to embrace new technology in their daily work routine.
What cannot be ignored is the fact that hiring managers put the applicants with resume gaps at disadvantage, most of which are likely to be women serving as caregivers for kids and parents.
Combating the she-cession requires some extra from hiring managers. To level the playing field for all and hire the cream of the crop, it's important to analyze the candidate's potential and personality before you bring them on board — and those things cannot be assessed by looking at the resume alone.
While assessing for skills and competencies is crucial, you will also want to consider how the candidate will perform the day-to-day responsibilities. This is where gamified assessments come to the rescue. Pre-employment assessments not only boost the candidate experience, they also accurately measure a potential hire's job-related competencies while making sure no bias creeps in. Most importantly, this ensures that women don't get left behind.
Opt for Video Interviews
Employers are well aware of the fact that flexible work options attract and retain more female employees. In fact, according to a poll by Gallup, 60% of women value work-life balance.   
The same problem of inflexibility can be found in interviews. Candidates need to take time out to attend multiple interviews and this can be particularly difficult for parents. For a lot of women, this poses the question of getting the job versus covering the costs of childcare. Plus, if the hiring process is time-consuming, that automatically forces them out of the running.
Coming to combating the she-cession, the easy solution to curb gender bias in hiring is by prescheduling video interviews. Video interviewing allows talent acquisition professionals to offer flexibility to the candidates, so the applicants can respond to your pre-recorded video responses according to their convenience regardless of their schedule.
This job search gender bias can be attributed to both conscious bias and unconscious bias, hindering applicants from finding, applying for, and receiving an offer for a job. However, as a recruiter you need to understand how the hiring process can be more prejudiced against women and then work towards making things more equal.