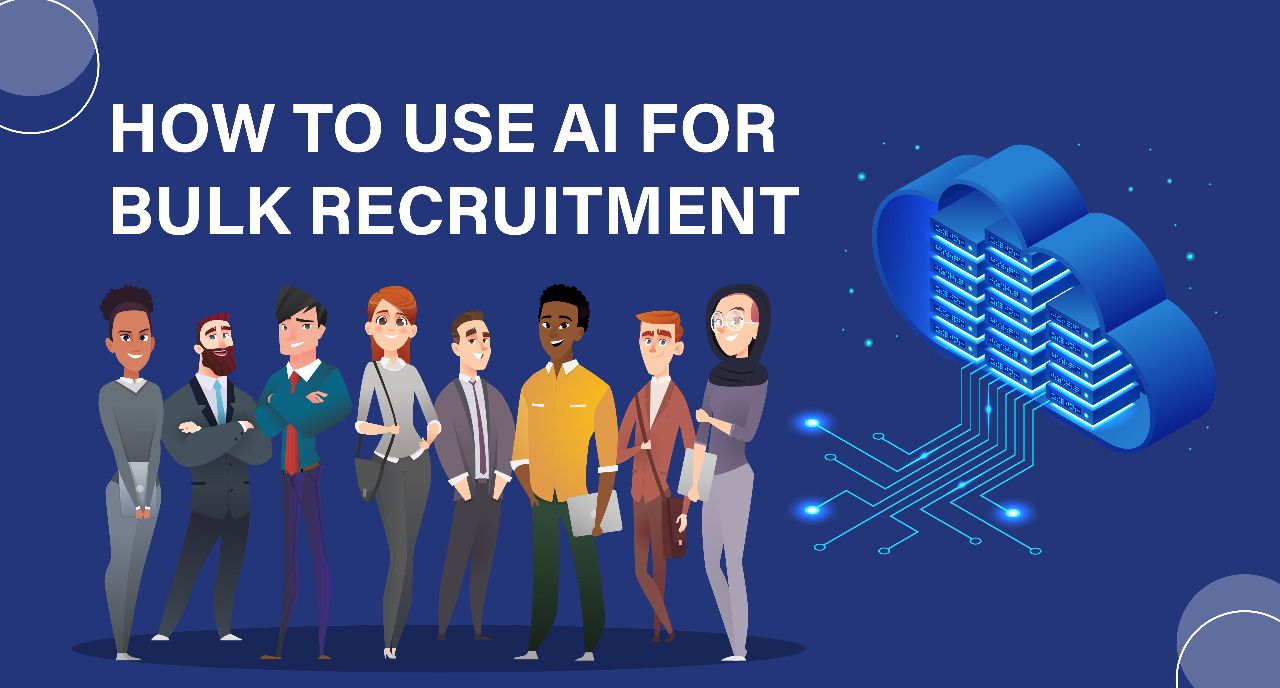 How to Use AI for Bulk Recruitment
Written By Daniyal Wali
Fortunately, employers can tap into the power of artificial intelligence to automate low-value, high-volume recruiting tasks. As a result, they can increase the productivity of their team and improve the hiring experience for candidates and recruiters alike.
The Challenges of Bulk Recruitment
Even the most experienced of hiring managers struggle with mass recruiting. This is primarily because bulk recruitment combines the common talent acquisition troubles of building the right recruiting strategy and providing a great candidate experience in addition to hiring a large number of people in a short span.
Here are some challenges HR teams face with bulk recruitment:
Challenge # 1 – Time Restrictions
On average, a job posting receives up to 250 applications. Given the fact that the average time to hire is 39 days, one can come to the realization that sifting a large number of applicants, taking their pre-employment tests, conducting interviews, etc. could take several months at the very least if the HR team has to fill up 50 positions.
Therefore, the first challenge to overcome with high volume hiring is it is time-consuming even with a powerful HR team.
Challenge # 2 – Team Size
During the scaling phase, there is usually immense pressure on recruiters to find the right fit. And finding the right fit means discovering someone that would positively impact the growth of the company.
Typically, this means getting to know each candidate more to see how they might meet the expectations and qualifications of the open position. However, it won't be possible to individually become acquainted with thousands of candidates on the same level if your recruitment team is small.
Challenge # 3 – Poor Organization
It is easy to keep track of candidates in the recruitment process if the HR manager is trying to fill up a single vacancy. But managing hundreds of applicants and keeping track of resumes, communication and interview of each can be quite grueling and overwhelming.
When the company has – for example 30 positions to fill, the HR team is likely to struggle. There is a high chance of getting lost in a sea of applicants and missing out on the perfect candidate for one of your positions.
Challenge # 4 – Cost-Per-Hire
Screening, vetting and interviewing applicants is not only labor-intensive, it is also costly. And when you're hiring in volume, that expense grows exponentially.
The cost of hiring an employee comprises more than the salary you're going to offer. The additional costs that come with setting up the job ad, posting it out on multiple job boards, screening and sourcing the applicants, assessing and interviewing them, all the way to making an offer – these costs cannot be disregarded. These hiring costs still exist when you're conducting mass hiring. In fact, the costs only elevate then.
Challenge # 5 – Candidate Experience
Recruitment is a two-way street. A candidate may initially be interested in working for your company but may lose all interest if the hiring process doesn't live up to their expectations. In other words, if they weren't made to feel welcome and excited to work for your organization, your candidate experience may be ruined.
However, when the HR team has a large pool of candidates to engage and attract, candidate experience may take the back seat. A poor candidate experience damages your employer brand, deterring talented candidates from applying to your company. In addition that, it also hurts your consumer brand, dissuading consumers from purchasing from you in the future.
Developing an Impeccable Bulk Recruitment Strategy with AI
Employers can use AI for bulk recruitment throughout their hiring process in order to shed unnecessary burden off their talent acquisition managers' shoulders and augment their hiring efforts. Undoubtedly, recruiters that use AI in recruiting will be the first ones to reap the highest dividends.
When hiring for just one position, you can weed through dozens of applicants to find the ideal match. This approach, however, doesn't work with bulk recruitment.
AI can help you surface qualified candidates so you have great talent from the start.
Interestingly, there are many HR tech solutions that are especially built to draw candidate engagement and response. Most recruiting assistants harness AI to help employers capture important candidate information, allowing them to make more informed hiring decisions.
While employers want to increase the efficiency of their recruiting process when conducting mass hiring, they also need to ensure the appropriate applicants are screened out. Leveraging AI-powered gamified assessments or other digital assessment tools allows recruiters to test candidates on their skills and abilities and determine the right fit, so they don't waste time on incompetent applicants. Additionally, automated shortlisting can save hours of recruiting time.
Your HR team may not be spending time with the qualified candidates as much as they would like. This is because labor-intensive tasks are likely to distract recruiters from the most important aspects of the recruitment process, especially when hiring in bulk. Recruiters can use AI recruiting software to remind candidates about their upcoming interviews, improve hiring velocity and boost candidate experience by providing scheduling flexibility.
Companies Using AI for Bulk Hiring
Artificial intelligence (AI) is commonly used by big companies and corporate giants in the hiring process to reduce the time-consuming or resource-intensive parts but it can also be used by small businesses. Let's look at some companies that are leveraging AI for mass hiring:
• IBM
International Business Machines Corporation (IBM), an American multinational technology, uses game-based assessments for bulk recruitment. The tech company used aptitude and personality assessments to assess talent.
• Walmart
The world's largest retailer Walmart is constantly hiring thousands of workers to handle the increased demand for everyday goods such as food and house essentials. The organization uses AI in recruitment to expedite the hiring process, make it less expensive and easily manage high volumes of applicants.
• Shell
Shell, a British-Dutch multinational oil and gas company, used The Talent Games' turnkey solution C-factor to hire top-tier candidates in bulk. The gamified assessments allowed Shell to test candidates on multiple aspects, including aptitude, cognitive abilities and behavioral skills.
• Grameenphone
Grameenphone, a leading telecommunications provider in Bangladesh, opted for gamified assessments to hire a large pool of talented candidates while ensuring they shared the organization's values and mission. The Talent Games designed, developed and deployed a customized gamified assessment solution for Grameenphone, helping them gamify their bulk recruitment process.
The Future of Artificial Intelligence in Bulk Recruitment
At every stage of the recruitment funnel, HR managers may be faced with bulk recruiting challenges. This means recruiters must always be prepared to rise to them, so they don't miss out on quality candidates – a mistake that could cost them as much as $240,000.
We can unanimously agree that AI offers endless possibilities to accelerate the process of recruitment and talent management. Artificial intelligence can efficiently automate time-consuming, repetitive tasks such as screening resumes or scheduling interviews with candidates.
So in the future, recruiters going for bulk recruitment – may devote more time on anything that involves networking with people and influencing their decisions.