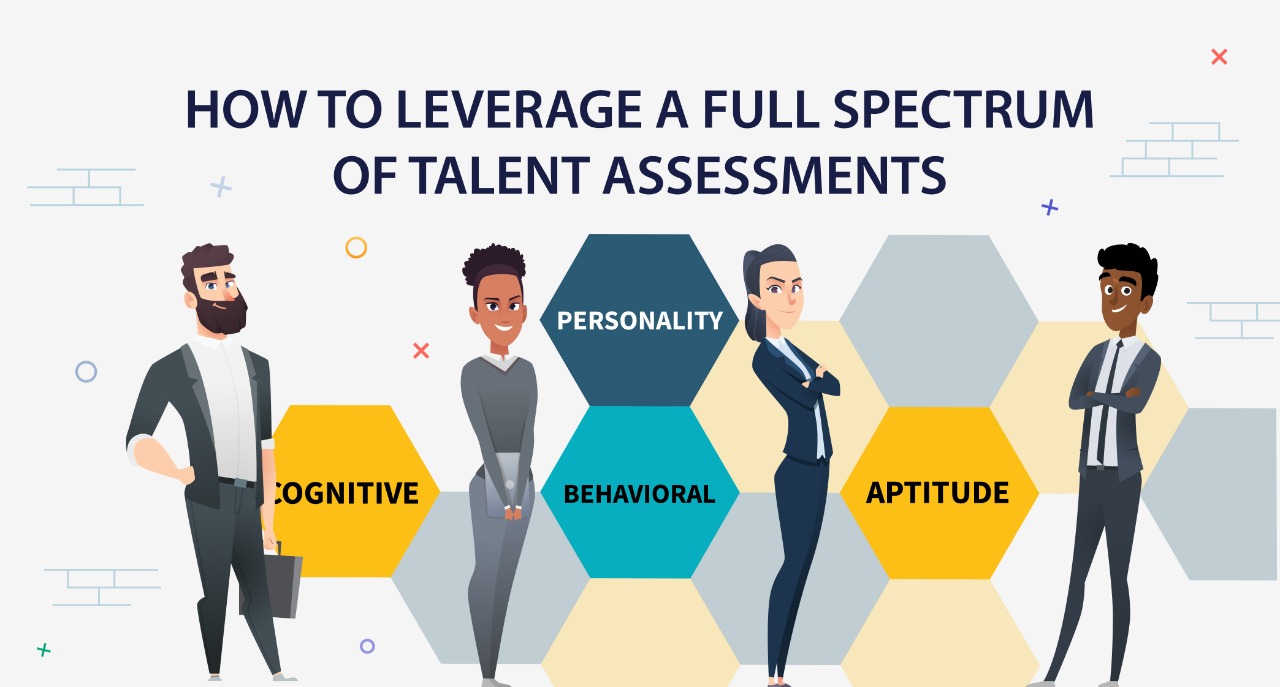 How to Leverage a Full Spectrum of Talent Assessments
Written By Daniyal Wali
Talent Assessment is an invaluable tool that is highly predictive of a candidate's success in the role. Amid today's economic landscape, an effective talent assessment can give companies an enormous advantage in identifying and attracting top talent.
What are Talent Assessments?
Talent Assessments are used to help employers identify which candidates will be a good fit for their company. Not only do they predict a potential hire's on-the-job performance, they also assess their retainability in the long term.
Candidates are typically assessed in the pre-screening, interviewing, and post-interviewing phases of the hiring process. By being tested against a specific criteria and skills set by the employers, candidates can be uncovered on different aspects of their makeup: their cognitive abilities, personality traits, working styles, digital readiness and more.
According to a 2019 LinkedIn report, 57% of hiring professionals use soft skills assessments, and 60% believe these assessments will make a profound impact in the upcoming years. Wonder why? Because employers can reap a number of benefits from them.
Reasons Why Talent Assessments are Important: Benefits of Talent Assessments
Here are some benefits of using an effective talent assessment and reasons why it is important:
Enhance the candidate experience
Talent assessments assess candidates on different facets of their skills and abilities, not merely on the depth of their resume. Thus, they disregard aspects, like a candidate's background, that could be influenced by socioeconomic factors, levelling the playing field for everyone and giving all an equal opportunity to shine.
This ultimately improves candidate experience as applicants get a fair chance to compete for the open position, that too in a brief and engaging hiring process.
Handle high-volume hiring
Talent assessments make the job of a recruiter effortless by providing "knock out" questions that will instantly disqualify candidates, in turn allowing them to handle high-volume recruiting more easily. As a result, you can unravel the exemplary knowledge of your top candidates and prevent yourself from wasting a ton of time interviewing incompetent candidates.
Test candidate's claims
Talent assessment platforms help recruiters verify the truthfulness of a candidate's resumes. A study by Criteria Pre-Employment Testing reveals that about 78% of resumes are misleading and up to 46% contain actual lies. By using these tests, employers can validate if the applicants actually possess the skills and capabilities they claim to have.
Avoid making a bad hire
74% of employers admit they have hired the wrong person for a job position according to a research by Career Builder. Testing for candidate skills set can save you from making a bad hire down the road.
The key to effective, insightful hiring tool is a blend of measurements that includes emotional intelligence, personality traits, cognitive abilities and other relevant skills one must possess to get the job done successfully. Resultantly, the employer can ensure if the candidate is the right fit for their company.
Boost employer brand
According to a LinkedIn survey, 75% of applicants consider an employer's brand even before applying for a job. Organizations can use talent assessment tools to strengthen their employer brand and showcase their organization's values, vision and culture. Using these tests, employers can differentiate themselves from the competition and reinforce an image that tempts people to work for your company.
Types of Talent Assessments
1. Job simulations
Job simulations are non-traditional talent assessments that immerse candidates in key job roles where they are to perform actual job responsibilities and resolve real workplace issues. The primary objective of this type of testing is to assess the individual on their job-specific skills and decision-making capabilities.
Employers who make use of simulations to assess if the candidates can multi-task and prioritize and how they work under pressure. When administered correctly, this assessment technique proves to be one of the strongest predictors of job performance.
2. AI-Powered Gamified Assessments
Gamification presents a completely new approach to recruitment. AI-powered gamified assessments backed by neuroscience are one of the most effective talent assessment tools that seem to be gaining popularity with the passage of time. Employers know that millennials will make up 75 percent of the workforce by 2025, and in order to attract, retain and motivate this group of workforce, they need to understand what captivates them.
This type of talent assessment evaluates candidates on their cognitive abilities, personality traits, problem-solving skills, etc, enabling them to unearth their true potential and ability in a fun and engaging manner. These tests are best used as a pre-screening tool and help hiring managers reduce the number of applicants.
3. Aptitude tests
Aptitude tests, also known as cognitive ability tests, typically include logic exercises and numerical and verbal reasoning, but they can also branch out to problem-solving, attention to detail, memory, etc.
4. Personality Tests
Personality tests can help employers analyze an applicant's behavioral and emotional patterns and assess their thought process. They can identify important attributes, such as creativity, leadership, integrity and cooperation, which can effectively predict future job performance and help select the best employees.
The accuracy of these tests, however, depends on the quality of these tests. For example, highly structured, industry-specific personality tests tend to offer a higher level of results than standardized personality tests.
5. Video Interviews
Video interviewing is most popular with high-tech companies, but educational institutions, recruiting firms and large multinational corporations also use this method of talent assessments. With time, video interviews are increasingly gaining popularity as companies expand their candidate search nationally and internationally.
This type of assessment is also a viable option available if you are looking to hire a remote worker. While video interviews allow recruiters to observe a candidate's body language and how they answer questions, the main advantage that they offer is a reduction in travel costs and a more efficient use of time for both the recruiter and candidates.
List of Leading Talent Assessment Tools
The Talent Games
Pymetrics
Revelian
HireVue
Arctic Shores
Codility
talentReef
Harver
Interview Mocha
Bryq
Top Talent Assessment Examples
Let's look at some of the best ways employers utilized assessments to discover the cream of the crop:
• Friesland Campina Engro Pakistan
FrieslandCampina Engro, a Pakistani dairy company which is a subsidiary of Dutch multinational corporative FrieslandCampina, used online gamified talent assessments as a recruiting tool.
The company managed to receive 15,253 candidate applications through this state-of-the-art assessment and thus was able to hire the best graduates. It also got the chance to showcase its employer brand.
• Nestlé East and Southern Africa Region (ESAR)
The Swiss multinational food and drink processing conglomerate corporation Nestle that has more than 2000 brands ranging from global icons to local favourites, adopted gamified assessment as a talent assessment centre to attract the finest millennial talent.
The company launched a social media campaign for its Nestlé ESAR Future Talent Graduate Development Programme, inviting people to register for a gamified assessment that evaluated the candidates on their cognitive abilities and personality traits
Using gamficiation as an assessment tool not only enabled Nestlé ESAR to secure 6,147 applications from East and South Africa, it also helped them improve the efficiency of their hiring process.
• Novartis Pharma
Novartis, as one of the largest pharmaceutical companies by both market capitalization and sales, is always on the lookout of competent candidates. Thus, it typically has around 8,000 job openings annually.
In the year 2018, the organization decided to harness the power of gamified assessments along with its "You Are The Future" social media campaign for its Management Trainee Program in order to discover top millennials. By utilizing gamification as a talent assessment tool, Novartis managed to pull in over 11,304 candidate applications.
How to Ace Talent Assessments — Some Tips and Tricks
Here are some tips on how you can set yourself up for success and improve your performance in the assessments:
Practice
A review of 50 scientific studies shows that practice boosts performance on nearly every kind of test. Firstly, it decreases anxiety. Of course, you'll be more confident and calm during a high-stakes test when you have had some trial runs.
Secondly, test-taking strategies come more naturally when the pressure is on. You'll learn to make fewer errors and ignore unimportant information. And third, repeated test taking can enhance your focus and ability to detect patterns – skills which are assessed by most aptitude tests. However, practice is more effective if you're aware of the type of the talent assessment your prospective employer uses.
Be yourself
Avoid lying — that's really important if you want to improve your chances of landing a job for which you are an appropriate fit. This advice is applicable mainly on personality and psychological assessments.
Good talent assessments have anti-cheating features that catch anomalous or fake responses. Additionally, smart recruiters detect discrepancies between test scores and real-world behaviors. Nevertheless, it's always a good idea to try to live up to your most fervent supporters' image of you.
Most of the employers design their assessments in such a way that they are linked to their "competency models." In other words, they note the skills, qualities, and values of their high performers and then evaluate those with validated tools.
Want to find out what traits organizations are looking for (determination, good judgment, persistent, resilience, and so on)? Visit their websites and go through their statements of values and purpose. This will give you a sense of what is expected of you even before you apply for a position.
Attend to logistics
According to research, circadian rhythms, stimulants and personality interact to affect our performance. For instance, people who are amenable and diligent are likely to be better test takers in the morning, so they should avoid coffee at a time when they are naturally functioning at a peak level of performance.
On the contrary, extroverted and creative people may require caffeine to perform well in the morning but can be restrained by it in the afternoon, when they're already firing on all cylinders. Therefore, if you have a control over taking a test, choose wisely and consider a time of the day when you are most focused. Also, be careful about the food and drink you consume.
C-Factor Talent Assessment Platform: A Gamified Solution
The Talent Games conducted a survey on 7000 students who played C-Factor game and asked them what they thought about the companies that utilize C-Factor:
62% believed companies can hire better quality candidates.
62% agreed that C-Factor has altered their perception about the companies.
75% stated that C-Factor provides a more outstanding experience as compare to other assessment platforms.
The candidate market is swamped with talented people, but the traditional hiring process hinders employers from identifying them. The ingenious C-Factor, however, has bridged the wide gap that both candidates and companies have been experiencing for several decades. It is precisely the top-of-the-line talent assessment tool that recruiters have been waiting for.
Leverage Full Spectrum of Talent Assessments
Recruiters may have the option of using a template game. However, a customized recruitment game is the best option for companies craving for a deeper story-line and real-life work scenarios, characters and environments.
Companies can use gamification and AI in a talent assessment platform to assess everything from cognitive abilities to behavioral characteristics and personality traits. With a customized recruitment game, you get a full overview of a prospective hire's potential, along with his or her match on a per-organization and per-position level.
Plus, apart from evaluating skills and personas, the gamification of assessments attracts new talent and drives better hiring decision compared to the traditional recruiting methods.
The Future of Talent Assessment
Today's employers realize that an outstanding talent assessment is pivotal to attracting and finding competent candidates. In fact, research shows that an effective talent assessment results in a decreased attrition and a significant increase in productivity and cost savings.
Gamified assessments, in particular, not only provide an engaging and enriching experience, they also offer higher predictability and unique opportunities to identify values, cognitive skills, motivators and behavioral competencies.
The future belongs to the recruiting professionals who embrace the technological advancements and evolution of talent assessment, and inform their hiring policies considering the changing workforce (Millennials and Gen Z).